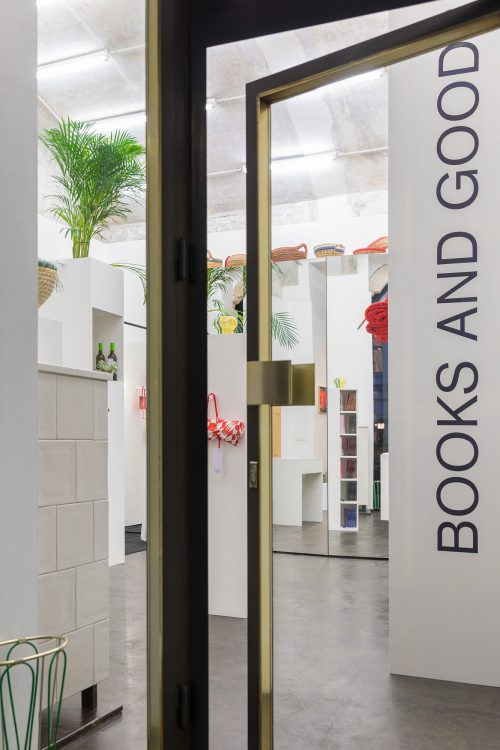 We publish carefully designed art books and develop exceptional products. We collaborate with actors from all fields of contemporary art, designing books and goods cherished by cosmopolitans around the globe. In Vienna, we also operate a boutique store as a special place for lovers of beautiful things to encounter exquisite editions and an assortment of handpicked items.

WIEDNER HAUPTSTR. 40
1040 VIENNA, AT
HELLO@VFMK.ORG
Wed, Thu, Fri: 12—6 pm
Sat: 10 am—3 pm
STAY IN TOUCH:
NEWSLETTER INSTAGRAM
Ever since our foundation, we have produced high-quality books on all relevant phenomena, themes, and protagonists in the sphere of contemporary art in cooperation with artists, galleries, and museums. Building on our widely acknowledged expertise and extensive international network, we have broadened our spectrum in 2020 by our own product line and a boutique store located in Vienna. In addition to art books of an international format, our range now also encompasses exquisite products of superior craftsmanship—from stationery design and accessories to everyday objects, home textiles, and fashion. The architect and product designer Florent Souly took over as creative director. Both, shop design and Goods, are realized in cooperation with former costume designer Dajana Dorfmayr. The space itself was created by artist Andreas Fogarasi, who had received the Golden Lion at the 52nd Venice Biennale in 2007 for his work at the Hungarian pavilion.

Vienna's Creative Scene Has A New Cool Kid On The Block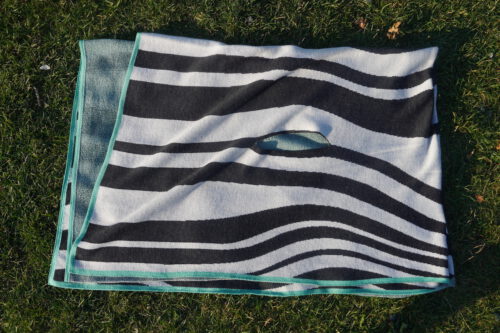 How remarkable that all our knits are made directly in Vienna. The cooperation with Kitech makes this possible. A knitting machine for heavier wool is located in the 12th district, one for finer stitches in the 3rd district. Our scarves, hoods and cuddly blankets originate from there.
Mr. Kirschbichler (photo below) took over the company from his father-in-law about 30 years ago and has been working side by side with Mr. Königshofer for many years. Many Austrian designers and manufacturers have relied on their expertise. However, the core business also consists of supplying textile companies and schools throughout Germany, Austria and Switzerland with Japanese knitting machines and spare parts of the "Shima Seiki" brand.
In terms of sustainability, Shima Seiki offers a very unique software package via Kitech. A software, that is able to virtualize a large part of the working steps from product design, color design, pattern making, fitting to the photo-realistic representation of the final product on an avatar. Several universities in Germany already offer master's degree programs that work with this software.
Mr. Königshofer (photo above) and Mr. Kirschbichler take care of the trainings personally. Sounds easier than it is, because from wholegarment–which are garments without seams, knitted in one go–to individual designs, pretty much anything is possible: a wide variety of jacquard patterns, structures, cuts, color designs and also the use of different types of wool. Not just a matter of know-how but time-management, trial and error, programming and the correct thread guidance.
The merino wool we prefer to work with is sourced from the Bogensberger company in Bad Fischau-Brunn. The company supplies Kitech with the best material, in many color shades and qualities.
Incidentally, the Warhol-like series of artworks in the background depicts the German painter Johann Gottfried Auerbach–imperial court painter at Vienna from 1735–who is said to have lived at the Kitech company site some 300 years ago. The special thing about it: the portraits are knitted and not printed.
And here comes the original: self-portrait in front of the easel with the profile portrait of Empress Elisabeth Christine (1697–1753), mother of Empress Maria Theresa.
Finally, a nice knitted selfie of the two gentlemen Mr. Königshofer and Mr. Kirschbichler. Respect and thanks to them.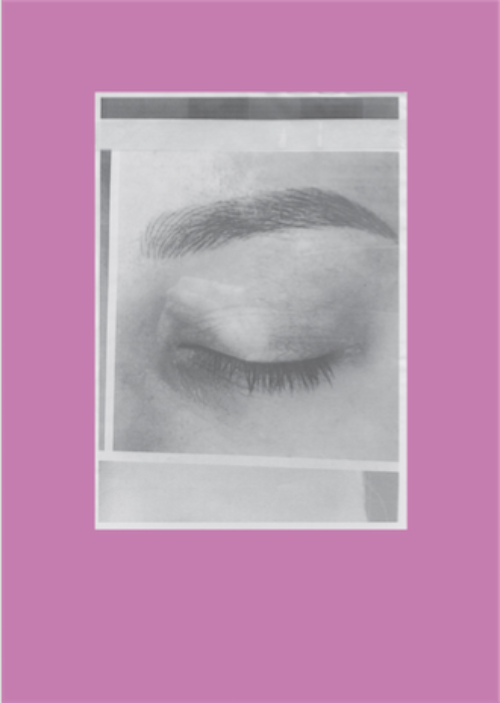 We are so happy to collaborate with Anna Ebner-Quadri!

She founded and the editions in September 2019 with the goal of make editions by contemporary artists visible and accessible.

and the editions is distributing limited editions and multiples by contemporary artists through the internet, in temporary exhibitions in changing venues and at art fairs and cooperates with selected international publishers like us, artists and galleries, as well Austrian institutions, which publish editions and multiples. Between them mumok – Museum moderner Kunst Stiftung Ludwig, Secession Wien, KHM Kunsthistorisches Museum Wien, Lentos Linz, Salzburger Kunstverein, Kunst Haus Wien, museum in progress, Belvedere Wien and Kunsthalle Wien.

The majority of the proceeds go to the publishing houses, artists and institutions, in support of their artistic work and program. All respect to Anna.

Lately she has a showcase at our boutique - yesterday she finished making the new work available to passersby: by Pierre-Olivier Arnaud, sans titre (Auge II), 2021.

Take a look!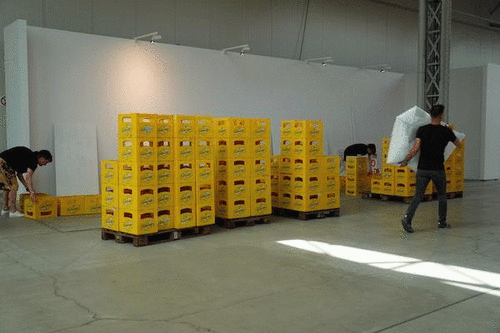 VFMK Books and Goods at SPARK Art Fair Vienna from 24–27 June

We would like to share with you the story of how our flagship in the Marx Halle came into being. Yellow Submarine, that's how the father of Florent Souly (designer and architect) – Max Souly – titled the work.

The yellow Ottakringer beer crates brought in freshness. Maybe the association of cold beer has driven us forward. At this point we would like to thank the SPARK makers, Renger van den Heuvel and his team, who provided us with the good organization, humor, drinks and snacks.

There must be a reason why I am king of my castle...

The figurehead is easy to recognize, Silvia Jaklitsch. She not only manages the publishing house, but many different projects at the same time with hands-on mentality.

What might be the concept behind this monument? Florent Souly explains:

"Building blocks are a primal element of architecture. They can be worked with at all scales, from childhood onwards. This year's VFMK booth design at Spark 2021 is to be scale-free. Can a table become a mountain? Do you see in the design a castle, or even a deconstructivist ship full of the latest products?

The fixed dimensions of the Ottakringer beer crates used allow modular freedom and flexibility. As a renowned publisher reinventing itself, we draw attention to our new VFMK label "Goods" through the abstract construction, as well as to the VFMK boutique that gives this space.

It doesn't get much more sustainable than that. One day after the fair, the boxes will be returned to their original function. At least until the next event."
Many thanks to Florent (see photo above), Ottakringer and all the artists, that were present:
tittietassen by Anna Riess
Géza Perneczky
Reflex, 1974, 16mm film (HD-version), b/w, no sound, 4:20 min
Idol, 1974, 16mm film (HD-version), b/w, no sound, 3:05 min
Courtesy of the artist and Patrick Urwyler (Chimera-Project)
The experimental films are part of the publication «Géza Perneczky: The Art of Reflection – Conceptual Photography 1970–75» edited by Patrick Urwyler.

Like a painting on fabric, Le Déjeuner sur l'herbe by VFMK.
And and to our right, the Acid Picnic Plaid by VFMK. Many thanks to Maurizio Cattelan and all the other guests who bought it.
We had a good time at SPARK!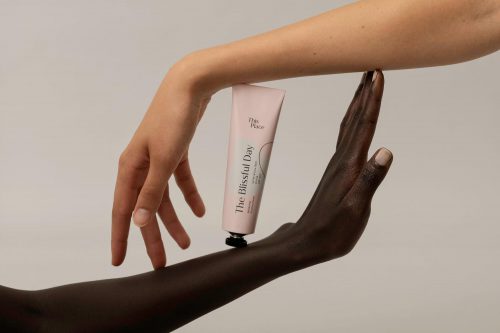 This Place
Recently we have This Place in our assortment because we really appreciate their concept of quality, sustainable packaging and organic farming.
What else makes the products so special?
CBD!
"The sun-drenched organic hemp plants, of which form the basis for our hemp extract, ripen against the breathtaking panorama of the Swiss Alps. They are harvested the traditional way. That means: manual work - because this is the only way to ensure the optimal ripening time and thus the best possible quality. We also made a conscious decision to use organic farming. Pesticides and mineral fertilizers are not used here and the natural resources of our planet are conserved."
Try it out – the soothing muscle, relaxing sleep, revitalizing face or soothing period cream.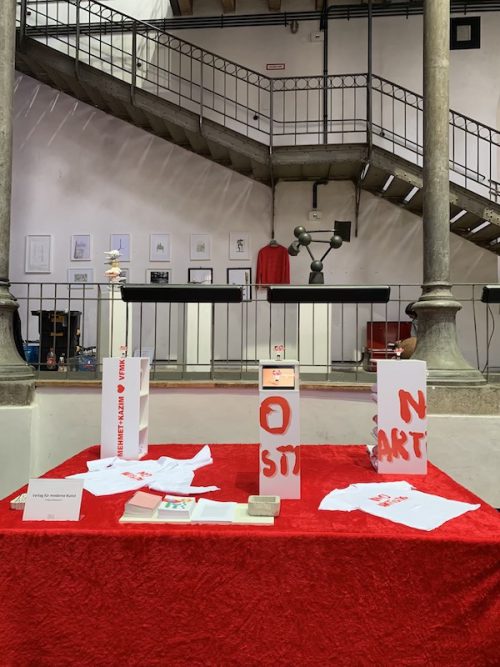 Mehmet and Kazim ❤️ VFMK at Parallel Vienna Editions 21
For the first edition of Parallel Vienna Editions we invited the artist duo Mehmet and Kazim to Vienna, because of a joint book project with them in progress and their fresh approach to art.

The artistic staging of Mehmet and Kazims' family alliance takes place through their alter egos, the Kissing Cousins, who constantly reappear in their works. No Artistas is part of their iconography and appears again and again in images. The whole thing was born out of a critical confrontation with a narrow-minded view of art. As always, they react to this with humour.
The editions sculpture, hoodie and shirt are available here and at the Boutique.
It was fun to spend the opening day with Mehmet and Kazim and curator Hannah Eckstein.
We ended the evening at Zur Herknerin and Karlsplatz – what a view.